Summary of Services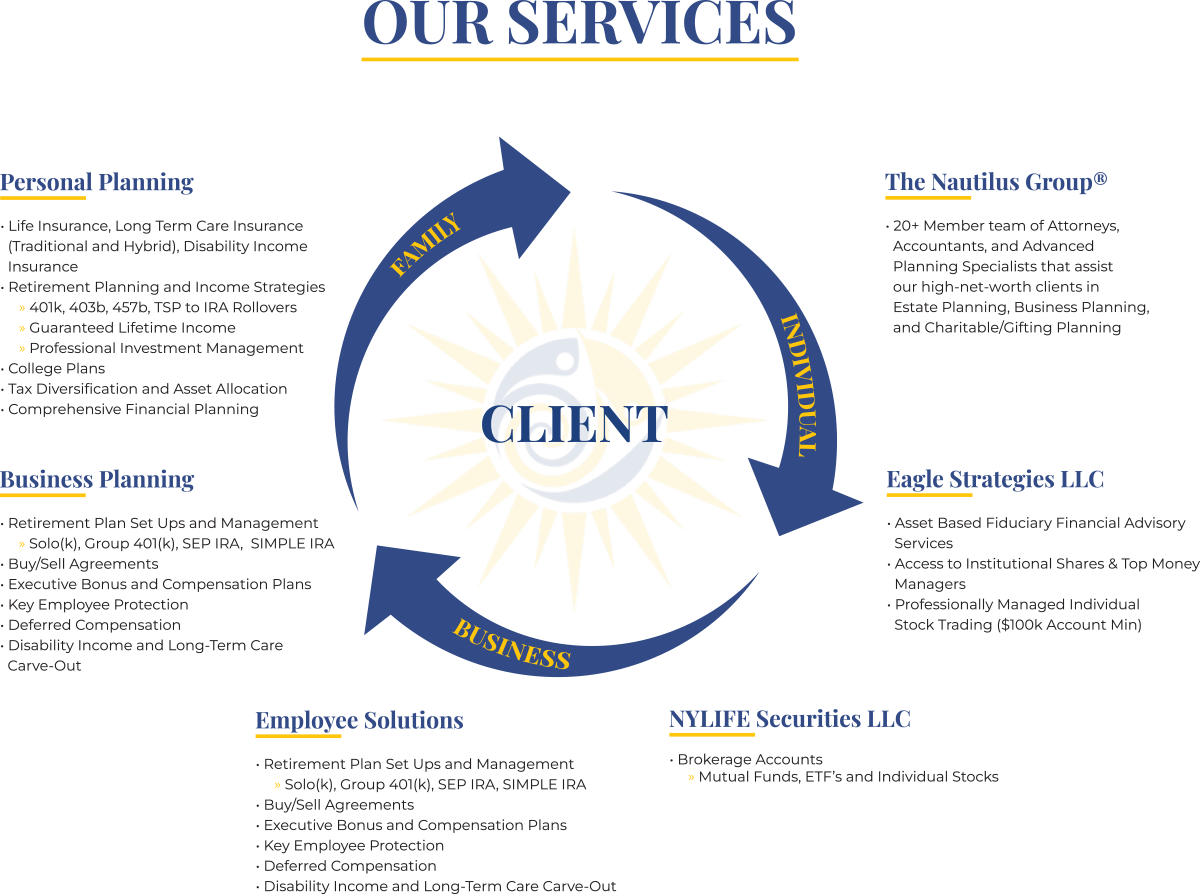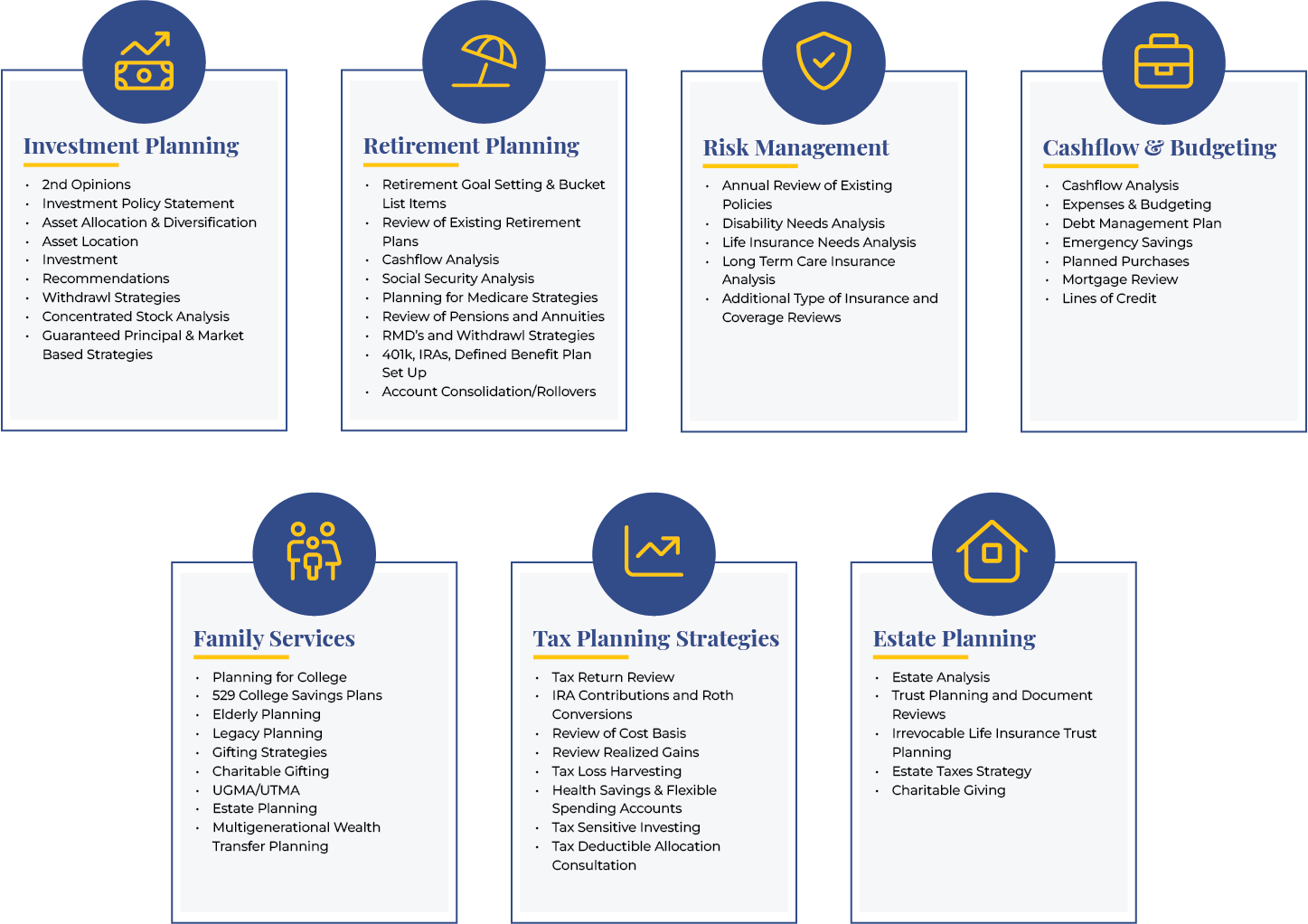 All financial product guarantees are subject to the claims-paying ability of the issuing company.
When considering rolling over the proceeds of your retirement plan to another tax-qualified option, such as an IRA, please note that you may have the option of leaving the funds in your existing plan or transferring them into a new employer's plan. You may wish to consult with your new employer, if any, to learn more about the options available to you under your plan and any applicable fees and expenses. You may owe taxes if you withdraw funds from the plan. Please consult a tax advisor before withdrawing funds.
Wealth Management and Retirement Planning
Through Eagle Strategies LLC, a wholly owned subsidiary of New York Life Insurance Company, we work with our clients to design and implement a variety of wealth accumulation and management plans, offering investment programs ranging from separately managed portfolios of stocks and bonds to mutual funds, and access to third-party wealth management programs. We offer a consistent process to help ensure management of investment assets according to your goals, risk tolerance and time horizon. We then monitor your plan on a continual basis, and adjust and evolve as your needs change.
Estate Planning and Legacy Planning
A well-engineered estate conservation plan can help minimize tax liability and ensure that loved ones are protected. We will work with you and your advisors to assess the impact of state and federal taxes on your estate and suggest strategies to help minimize those taxes while meeting your family's needs. We do not provide tax advice. Please consult with your own advisors for tax advice.
Wealth and Asset Protection
There are numerous financial strategies and retirement income strategies that can help you accumulate assets for the future, protect your business and personal assets from liabilities, and safeguard asset transfer to children and grandchildren. We can help you figure out what the right course of action is for your specific situation and objectives.
Business Planning
We offer a wide array of services to help business owners address their financial needs at every stage of the business life cycle. Taking into account their personal values and financial goals, we create and execute customized strategies to help entrepreneurs meet their objectives.
Comprehensive Fee-Based Planning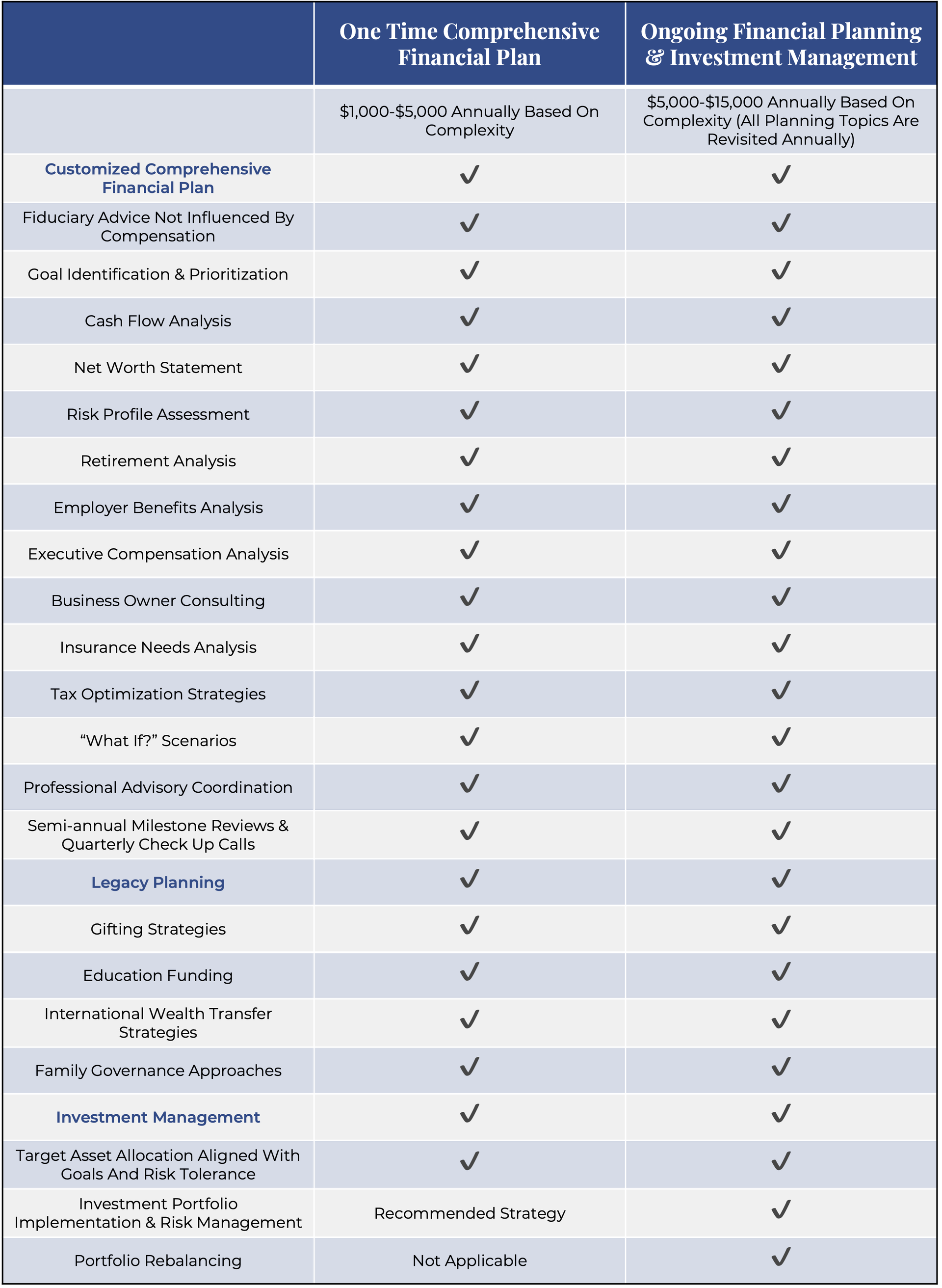 All clients get access to eMoney, their own personalized financial website - to make organizing their plan and tracking progress easier.
These are our typical fee arrangements. Fees may be higher based on more complex planning needs and greater time commitments.
We can apply the recommended strategies and risk management if engaged to implement the financial plan.
Financial Planning and Advisor Fees reflect my typical fee for these services and are negotiable. Financial Planning Fees are typically collected in full at contract signing, though other arrangements may be available. Advisory accounts are subject to an annual minimum administrative fee. The advisory fee is calculated and collected monthly.
For the Representative Directed Program, advisor fee ranges are a breakpoint and reflects the assessed advisor fee for all assets as each threshold is crossed. For all other Advisory programs, there are two pricing options for the advisor fee range; it may be tiered, which reflects the assessed advisor fee for the portion of assets within the stated band, or it may be a breakpoint based on the proposed initial investment. This decision will be part of the discussion when establishing your account.
The Financial Planning Agreement and/or the Statement of Investment Selection (SIS), each of which you will sign if you engage in a Financial Plan or open an Eagle account, will reflect your specific fees including, if applicable, the minimum administrative fee. For Advisory accounts, please note that additional sub-manager, Platform, 12b-1, and Expense Ratio fees may apply. You should reference Eagle's Wrap Fee brochure, available at www.eaglestrategies.com/important-­disclosures, for additional information on fees including how and when fees may change and the method of calculation.